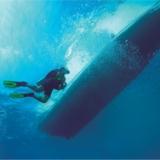 There are many different boats. They are called Ribs, Hard Boats, Live-a-board's, Dohnis, Sail boats. The PADI Boat Diver Specialty you will teach you all the different techniques and procedures of diving from the different types of boats and the proper boat diving terminology and etiquette.

The Course Consists of: -
1 Theory Session

2 Open water Dives

Pool Session at Instructors discretion.
The Boat Dive, conducted during the PADI Adventures in Diving program may be counted towards this specialty at the discretion of the instructor conducting the specialty course.
The Boat Diver Specialty can be counted towards the Master Scuba Diver rating.

The equipment you will need on this course is
Full scuba equipment

Suitable Thermal Protection for the diving environment

Depth Gauge and Watch (even if you are using a computer)

Recreational Diver Planner

Diving Tool or Knife capable of cutting line

Slate with Pencil

Whistle or other surface-signaling device

Log book.
The equipment that is recommended for this course is
Underwater light

Delayed SMB and Reel

Independent air source (3ltr).
Pre Reqs
Be certified as a PADI Open water Diver, Junior Open water or equivalent.
Be 10 years of age or older.
Complete the PADI RSTC Medical Form.

Notes
This includes cylinder and weights only.
Cost does not included any boat or entrance fees.

Please complete and bring the following forms to your first session:
PADI Medical Form