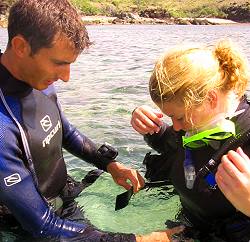 This course is the first full certification course. On completion of this course you will be qualified to dive with another diver to a maximum depth of 18 metres anywhere in the world.
The course consists of: -
5 Theory Sessions

5 Pool Sessions

4 Open water Dives

All the Equipment you require while on the course.

(we recommend that you buy your own Mask, Snorkel, Fins, Boots and Gloves which we can offer you a special price on)

A

crew-pak

for you to keep which contains all the reading materials for the course and a logbook to log your dives.
Pre Reqs
Complete the PADI RSTC Medical Form
Read The PADI Open water Manual Chapters 1-5 and Complete the Knowledge Reviews 1-5.

Notes
All of our programmed courses are scheduled to suit a maximum number of 8 Students per Instructor per course.

Should you require a course tailored to meet your individual needs, either for a reduced instructor-student ratios, or due to your requirements for a more personalized or flexible schedule, then we will be happy to meet your needs wherever possible, subject to instructor availability.

Personalized courses will be priced differently to scheduled courses; the rate will be dependant upon the number of students per instructor.

Please complete and bring the following forms to your first session:
PADI Medical Form